We are a
fully accredited
third-party
testing laboratory
providing Regulatory Compliance testing.
Accreditations
GTL is one of the most highly accredited labs in the testing industry. Accreditations define a test lab's professionalism, breadth of capability, and quality of service - GTL is world class. View a comprehensive list of GTL's accreditations.
History of Global Testing Labs
Global Testing Laboratories, GTL, was established in 2004 with the purchase of Philips Testing Service, a Division of Philips Consumer Electronics North America. We have provided great service and support to our customers for the past 13 years and are now under new ownership and management and looking forward to serving you for many more years to come.
We are a fully accredited third-party testing laboratory providing Regulatory Compliance testing and are committed to providing sustaining support and superior customer service to all clientele, large and small.
Our skilled engineering staff has over 40 years combined compliance testing experience to serve you. We understand the importance of gaining your necessary approvals in a timely and cost effective manner, and take great pride in our reputation of providing a fast turnaround time.
We are conveniently located in beautiful East Tennessee just off Interstate 40 on the east side of Knoxville.
News
July 7, 2017           Global Testing Laboratories Receives UL Qualification
GTL is now participating in the UL Third Party Test Data Program (TPTDP), which enables the lab to conduct standard UL testing for Electrical Equipment for Measurement, Control, and Laboratory Use and Enclosures for Electrical Equipment – Environmental Considerations at its testing facility in Knoxville, Tennessee. UL is internationally recognized and trusted throughout the business community for its testing standards and capabilities.
This program allows GTL to provide UL Safety Testing and datasheet packages in support of UL Mark certification providing added value to our customers with increased flexibility and decreased turnaround time during product launch.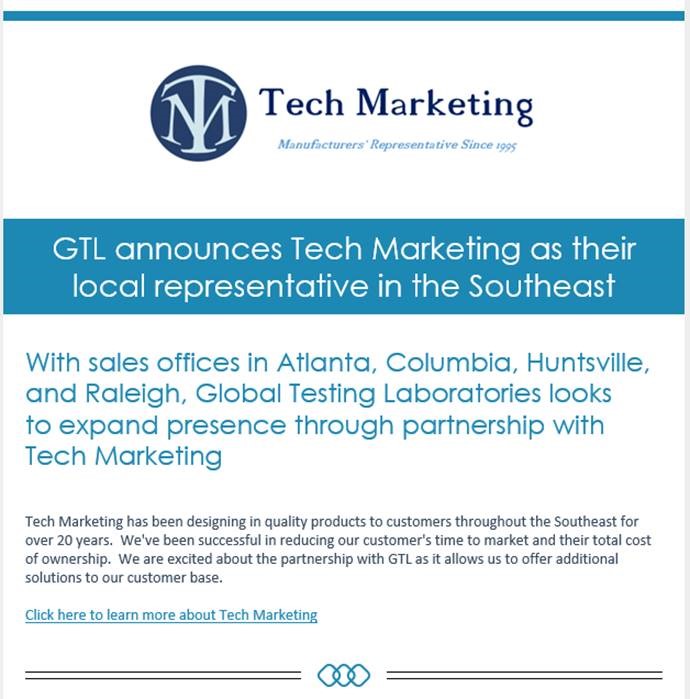 Client Reviews
I have worked with the folks and facility for over 15 years, and have always found the staff to be very skilled, knowledgeable and accommodating. That said, recent changes have brought noticeable technological improvements to the laboratory. I am forever grateful to have a resource like GTL available to us, and I look forward to every visit and testing opportunity and challenge.
TUV SUD America is proud and very excited to have GTL as a partner lab. We have worked with GTL for many years. GTL is strategically located in East Tennessee with easy access from most of the country. With the new management in place with many years' experience and all the fantastic improvements to the facility we anticipate a very bright future with our relationship.
We have just completed our second project with GTL and we are extremely happy with the professionalism, efficiency, and time of completion. GTL's staff has been extremely helpful, knowledgeable, and communicative.
We are a company that designs and manufactures Hearing Aids and Hearing Aid Accessories. We sell these products across the globe and have shared multiple test reports from GTL. We have shared these reports with various government regulatory agencies around the world, and we have yet to have a country or region question/reject any test data from GTL. We look forward to continue working with GTL in the future.
GTL's integrity in testing, accreditations and technical expertise in EMC test standards and accuracy in the execution of the tests is why I continue to look to GTL as a professional resource for due diligence third party EMC compliance testing.  Their competence and professionalism affords me with a high level of confidence in their testing and results.